Delyva Launches Mobile App; Adds Nine New Service Providers to Its Delivery Booking Platform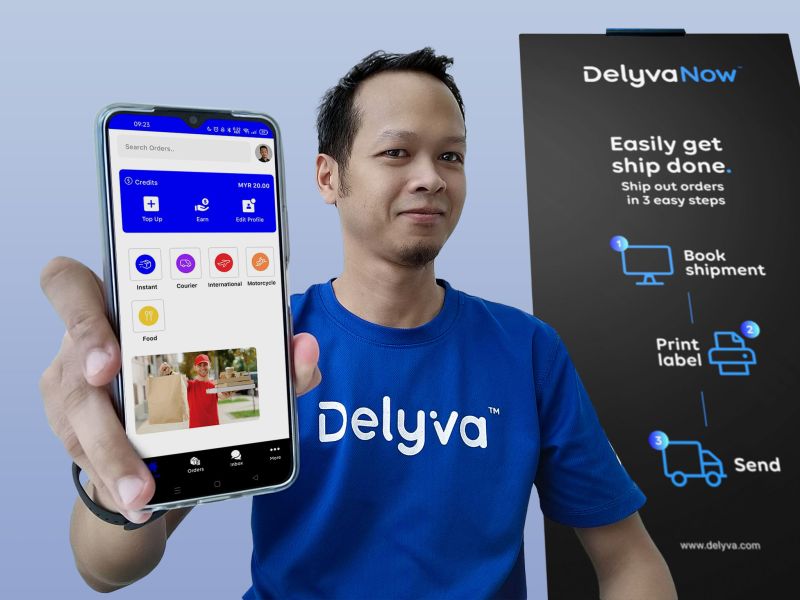 Petaling Jaya, 31 May 2021 – Delyva Sdn. Bhd. today launched DelyvaNow mobile app that functions as a booking platform for delivery services for micro, small and medium enterprises (MSMEs). It allows users to book, manage, and get notified of all their delivery orders on the go. The app is available for Android and iOS phones. Delyva also announced that it has partnered with Bungkusit, GrabExpress, Janio, J&T Express, Lalamove, MrSpeedy, Ninja Van Malaysia, pandago, and Teleport. Services from these new partners are currently available on DelyvaNow mobile app except for services by Janio, pandago and Teleport, which will be offered on the app starting July.
Hanif Wahid, CEO and founder of Delyva said, "Previously, our customers could only use a web application for bookings. We are excited that DelyvaNow mobile app is finally here to give users better convenience and experience."
Bungkusit, GrabExpress, Lalamove, MrSpeedy, and pandago provide instant delivery services; J&T Express and Ninja Van Malaysia provide domestic courier services, Janio provides international shipping, and Teleport provides instant, domestic courier, and international shipping services.
"Users don't just have options of domestic courier services, but they also have options of instant delivery services – five service providers now and two more in July. If they are in Ipoh, Klang Valley, Johor Bahru, Malacca, or Penang, they can now access more than one choice of instant delivery services via DelyvaNow mobile app. This is useful because they can compare delivery rates and select the best provider for their needs and requirements; all using a single account and app," Hanif explained.
He continued, "Just imagine, in situations where a service provider becomes unexpectedly unavailable at the last minute, the users can instantly select another provider using our app. So, business will not get interrupted, and customers get their order timely."
Before the new nine partners, Delyva has already had Aramex, AsiaXpress, CJ Logistics, DHL eCommerce, FGV Transport, Matdespatch, Pos Laju, and Pos FlexiPrepaid on its delivery booking platform. The Company continues to look for new partners.
DelyvaNow is an online booking platform for delivery services for MSMEs. Users can compare service rates and select the ones that meet their needs and requirements. It helps users to save time and money instantly, and courier services for local and international destinations. Beside parcel delivery, DelyvaNow also offers PosMoto, a door-to-door motorcycle transport service within Peninsular Malaysia.
About Delyva:
Founded in 2019, Delyva is a one-stop delivery solutions provider for businesses of any size. Its DelyvaNow app is a delivery booking platform that provides customers with multiple delivery service options so they can select services that meet their needs and requirements. Meanwhile, DelyvaX, which was introduced in late 2020, is a SaaS-based delivery management system for e-commerce companies and delivery service providers. With DelyvaX, customers have the flexibility to manage delivery using their own riders or drivers, and/or integrate with third-party courier providers of their choice. Delyva Sdn. Bhd. is based in Selangor. Visit www.delyva.com.
PR Contact:
Kam Hashim
kam@hashimpr.com