DelyvaX to digitise end-to-end solutions for courier & delivery companies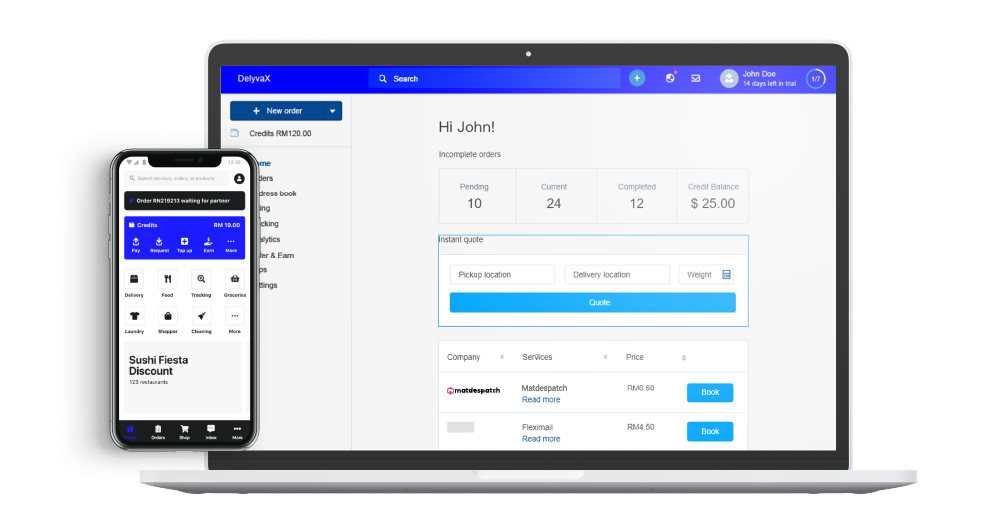 KUALA LUMPUR, Malaysia, Dec. 17, 2020 /PRNewswire/ — Delyva, a company providing technology solutions focused on improving delivery services in the e-commerce industry, has launched a new next-generation delivery management system that helps delivery service providers digitalise operations and provide a seamless mobile customer experience.
DelyvaX was developed and conceptualised by the expert team at Delyva to meet the needs of SMEs in niche delivery segments and to address the issues and concerns arising from outdated and conventional manual delivery systems.
It supports a full suite of delivery and customer management-related features for a better customer experience and efficient operations where bookings, quotations, delivery tracking process, and task assignments can be done instantly.
DelyvaX has also factored in the delivery personnel by incorporating a driver application where the drivers can view their delivery tasks.
E-commerce has become more vital to the economy in recent months amid the pandemic. Unfortunately, many times, current industry players are unable to meet delivery and logistics challenges to provide the best services, thus discouraging people from purchasing online.

Our software offers an end-to-end solution that benefits small industry players to subscribe to DelyvaX without having to allocate a huge monetary budget on IT development, enabling them to save a lot of cost and time, and the opportunity to scale their business as well.
DelyvaX prepares SMEs for the Industrial Revolution 4.0
DelyvaX employs software as a service (SaaS) – a cloud-based service accessible by all devices with an internet connection.
Industrial Revolution 4.0 is upon us and businesses around the world are getting smarter and more efficient. Automation for higher productivity, real-time data, cloud computing power, Internet of things (IoT), Big Data, Artificial Intelligence, and System Integration allow digital businesses around the world to offer better personalisation that will earn the trust and loyalty of modern-day businesses and consumers.
DelyvaX is available for express couriers & on-demand couriers, same-day couriers, 24-hours couriers, groceries couriers, food couriers, and cleaning or service deliveries involving field operations, logistics, and courier aggregator companies.
In addition to helping existing players grow their businesses, DelyvaX also encourages new players to cater to scarce services such as specialised delivery, including bulky items, frozen food, fresh groceries, high-value delivery, and hyper localisation.
---
Safwan Rahman
Head of Growth at Delyva. I help e-commerce businesses and delivery service providers to provide better delivery experiences to their customers and scale their business to the next level with Delyva delivery management solutions.
---