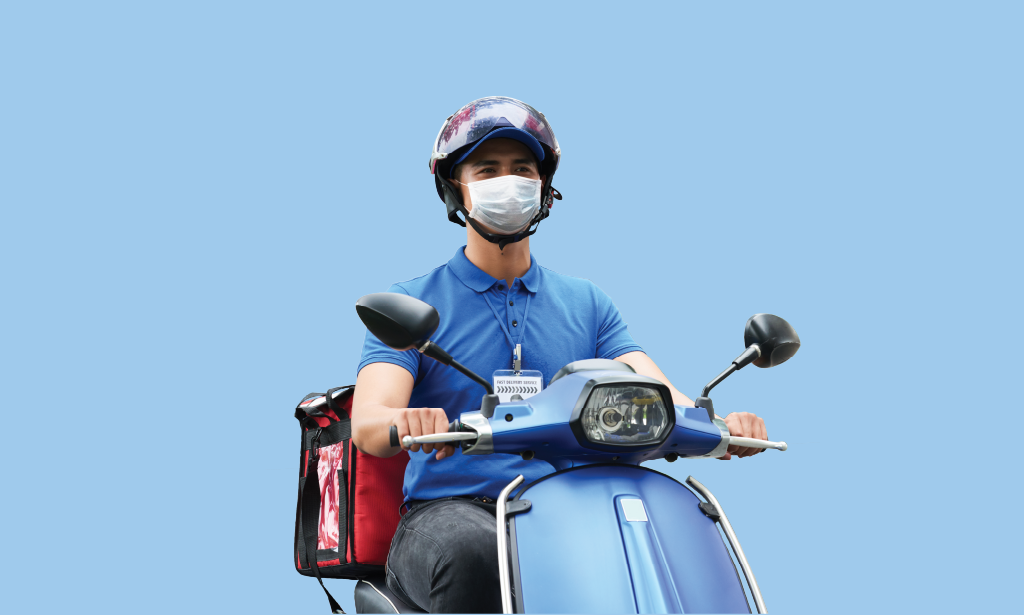 With the number of Covid-19 cases rising and the implementation of Movement Control Order (MCO) in Malaysia or "lockdown" in many parts of the world, it's safe to say that the people will probably stay home for the next couple of months to avoid getting infected by the disease. Now that the government has imposed a 10km travel restriction rule, we'll rely more on the Internet and online channels to shop for essentials and non-essentials items instead. In fact, more merchants, retailers, restaurants, and other businesses are opting to go online and digital and provide delivery services to appeal to the general public to get more business and survive. 
But of course, the online delivery service business isn't something new. It didn't just happen overnight. People have been doing their purchases online for the past decade or so, it's only recently that the e-Commerce business started to gain momentum, all thanks to sites like Zalora, Shopee, and Lazada. And because of this, the demand for an online delivery business is also rising, making now the best time to start an online delivery service. 
Let's take a look at the types of business you can kickstart:
1. Parcel delivery business
With the increase of online businesses in many parts of the world, more and more merchants are relying on parcel delivery businesses to send their items to customers. This type of delivery business is especially important now where we're all living in a pandemic world where offline and retail businesses are encouraged to have an online presence to sustain. 
To start a parcel delivery business is not difficult. You'll need a reliable source of transportation to deliver packages from houses to houses. Aside from that, storage space or a warehouse is also required to store packages and parcels that are going out for delivery. Decide on the types of delivery methods and service levels – be it standard delivery, next-day delivery, express delivery, same-day delivery, or instant delivery. To top it off, a good delivery management system like DelyvaX will help streamline the entire delivery process for you. 
2. Food delivery business
The food delivery service is part of a delivery industry where people can order food through an app or a website, just like GrabFood and FoodPanda or restaurants businesses or F&B retailers like Domino's Pizza and PizzaHut. Though the market's dominated by those brands, it's possible to break into the market by offering something they don't have. You can start your business by specializing in a particular cuisine or customer base. Make it an exclusive service so people who are satisfied with your business will post up good reviews or spread your brand through word of mouth. 
The initial investment to start the business is not big. You can hire someone to build a mobile app and design a website for the brand which costs a lot or you can simply subscribe to a good online ordering system and delivery management system. Once everything's set, time to think about logistics. To run a food delivery business, you'll need multiple vehicles like a car, a bike, or a motorcycle to ferry food from the restaurants to the customers' houses or you can also crowdsource your fleet of riders and drivers or outsource your delivery to instant delivery service providers like Matdespatch and ZeptoExpress. Then you'll also need to think about investing in the best online order management system like Maynuu and a delivery management system like DelyvaX which offers a seamless customer experience with accessible pricing to help you with the processes. Don't forget about the food warmer to keep the food warm while delivering. 
3.Grocery delivery business
This business model is similar to the one above but easier. Unlike food delivery which requires you to deliver within a certain time frame or you'll get complaints or bad reviews from customers, you don't have to deliver groceries urgently to a customer's house as you have a larger delivery window like one to two days. 
Not to mention, starting a grocery delivery business could be easier as well as you can collaborate with grocery stores like Mydin, Jaya Grocer, Aeon, or Hero Market to help them with their delivery. To start a grocery delivery business, you'll need coolers to keep grocery fresh, a larger vehicle like a van or a lorry for delivery, a mobile app, and a website for customers to place orders. And like a food delivery business, a good online order management system (Maynuu) and a delivery management system (DelyvaX) are required to ensure the businesses run efficiently. 
Note: If you're partnering with a large grocery brand, they probably have their own site for customers to place orders so you'll need to handle the delivery part of the business. 
4.Runner delivery business
Instead of delivering food or grocery for customers, running a runner business means customers can hire someone to buy and deliver all kinds of items for them, from documents to birthday cakes and parcels. Aside from delivery, some runner delivery service also has the option of completing simple tasks like paying bills and shopping for essential items. 
It doesn't take a lot to start a runner business as well. An app or a website is essential for you to list down the type of services you provide, the delivery range and for your customers to place their orders. And like any other delivery business, owning multiple vehicles is crucial for your runners to deliver goods and services. You'll also need DelyvaX, a delivery management system to help you run things so you can put your focus on expanding the business. 
5.Gas delivery business
The gas delivery service is still an untapped one. In fact, most people still rely on the gas delivery truck or nearby grocery store to drive by their house to change their empty gas. Though the market is a niche, gas is still considered an essential household item, especially now where we see more and more people starting cooking at home to save money. 
For this business to run smoothly, it's advised to connect with the existing gas company. Partner with them and help them out with the "demand" part of the business. Set up a mobile app or a website for customers to place orders. Once the orders are in, your app will broadcast the order to the nearby retailers or drivers who are within a certain range. The available retailers or drivers will receive the order and can choose whether or not to accept the order.  Once accepted, the retailer or driver will deliver the item to the customer's house. Make sure you invest in a good online order management system like Maynuu and a delivery management system like DelyvaX to keep businesses organized and efficient. 
And there you have it. Starting an online delivery service business is not difficult if you know your audience well. Conduct market research on what's lacking in the current market and start ideating from there. Once you get your business up and running, it's also important that you have the necessary items to streamline businesses. 
If you're looking to start your own delivery service business, sign up for DelyvaX and Maynuu or you can also request a demo to see how we can help to improve your business.