FAQs -Delivery Management Software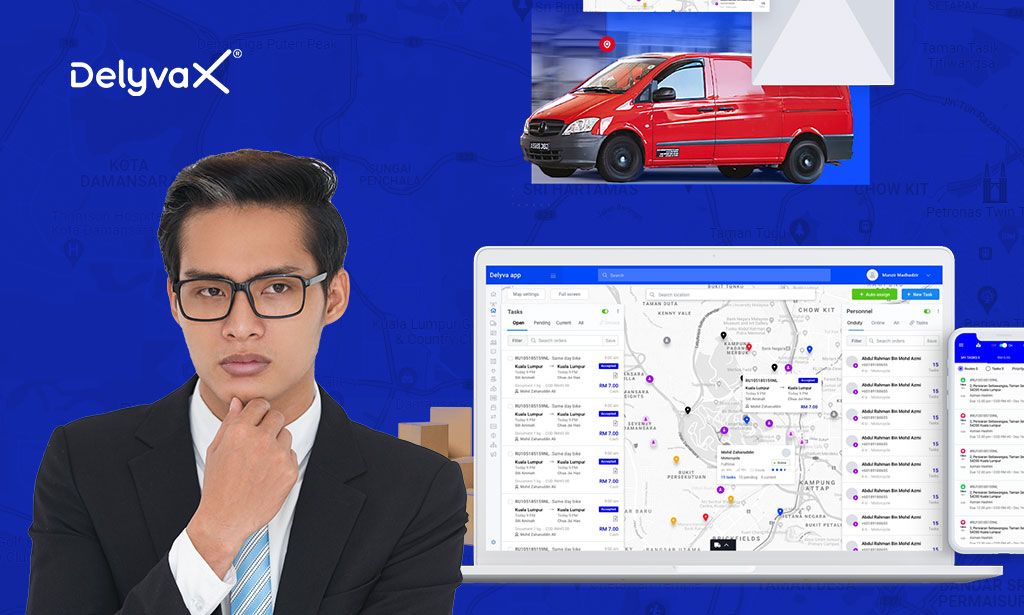 There is no denying that traditional delivery management cannot meet today's evolving customer demands for changing supply and expectations. One way that eCommerce, manufacturing, or any other business can meet this need is to have a separate team for each task. However, it will cost a little more. One solution that can help any business manage its delivery operations is delivery management software.
Courier companies can find ways to reduce shipping costs, minimize delivery times, lower operating costs, increase operational efficiency, and increase productivity with delivery management software. Let's look at the frequently asked questions about delivery management software.
What is delivery management software?
Delivery management software automates critical shipping tasks such as order management, order allocation, delivery, route optimization, order tracking, and more to ensure that every order is delivered on time and cost-effectively.
Why do you need delivery management software?
Customers want their orders to be delivered as soon as possible, perhaps the same day or the next day.
And to meet these delivery expectations, each process must be completed within the specified deadline. The delivery management system simplifies order management, driver and vehicle distribution, order receipt and delivery, and all other processes to ensure that every order is delivered on time.
It also helps improve customer experience and ensures operational transparency.
What are the key objectives of delivery management software?
The objectives of a delivery management system may vary based on the organization's specific needs. However, the main goal is more or less the same. Delivery management systems help organizations:
Complete logistics visibility
Order management
Rider management
Real-time order tracking
Digitized route optimization
Multi-stop route planning
Reduce delivery turnaround time
Accurate ETAs
What is the best delivery management software?
The best delivery management software is the one that meets the specific delivery needs of your company and also includes all the delivery management functions.
How do you manage a delivery driver?
Delivery management software makes it easy to manage all riders from a single dashboard. Allows you to track drivers in real-time. It also includes an "Insights and Analysis" option that can help assess each driver's performance and calculate the number of successful and unsuccessful deliveries.
You can use the information from the reports to measure your driver's performance.
Which is the best delivery management software in Malaysia & Southeast Asia?
DelyvaX's delivery management software is the best in Malaysia & Southeast Asia. It helps courier, delivery, eCommerce, manufacturing, and other companies manage order deliveries in a timely and cost-controlled way. DelyvaX can be customized to any business requirements. It digitizes delivery processes to reduce the delivery turnaround time, boost productivity, increase customer satisfaction, and render other benefits.
Once integrated with your existing ERP system, DelyvaX looks into new order requests. It segregates the order based on delivery location, product type, and other constraints. DelyvaX then assigns a vehicle and driver and generates automated delivery routes.
It also provides a dedicated application to the riders to help them check new pick-up requests and manage ongoing deliveries. DelyvaX also sends a tracking link to customers to check delivery ETAs.
Some of DelyvaX delivery management software key features:
Automation Order management.
Easy booking.
Multi sizes order labels
Real-time order tracking.
Rider & Driver app.
Flexible pricing calculation base on postcode & radius.
Accurate ETAs.
Reschedule deliveries.
Insights and analytics.
eCommerce Ready (Plugins for Woocommerce, Magento, and more via API).
Instant quotation.
Consumer Mobile App.
Flexible payment options for your customers.
Reporting & Analytics.
and more!
Why you should use delivery management software such as DelyvaX?
Minimized delivery cost.
To expand to new markets.
Complete operational visibility.
Increased rate of first-attempt deliveries.
Increased customer satisfaction.
Reduction in the overall delivery lead time.
Efficient delivery routes.
Complete vehicle capacity utilization.
On-time deliveries.
Hassle-free rider management.
If you have any other queries about DelyvaX, then feel free to schedule a demo session with our experts.
---
Safwan Rahman
Head of Growth at Delyva. I help e-commerce businesses and delivery service providers to provide better delivery experiences to their customers and scale their business to the next level with Delyva delivery management solutions.
---