10 Reasons Why DelyvaX is the Best Delivery Management Solution for Your Courier Business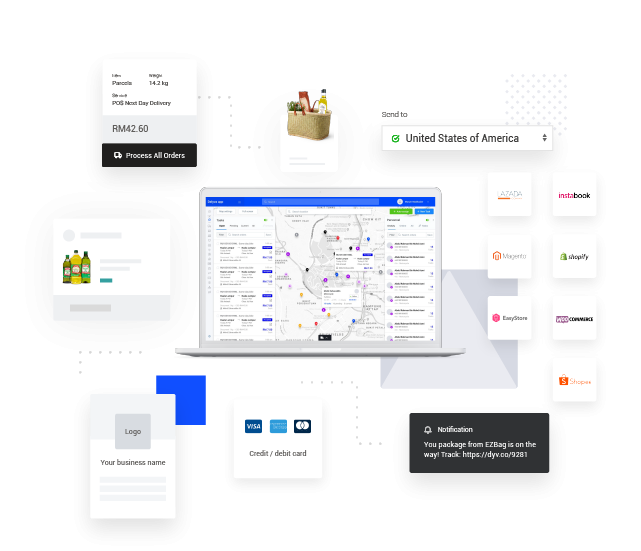 As a courier business, having a reliable and efficient delivery management system is crucial to streamline your operations and providing excellent service to your customers. In today's digital age, manual tracking and traditional methods of managing deliveries can be time-consuming, inefficient, and prone to errors, leading to missed deliveries, dissatisfied customers, and lost business opportunities.
Enter DelyvaX, the ultimate solution for courier businesses seeking comprehensive delivery management. Here are 10 reasons why DelyvaX is the best delivery management solution for your courier business:
Streamlined Operations: DelyvaX is an end-to-end delivery operating system that streamlines your courier business operations, from checking out courier delivery rates, order booking, label generation, order management to delivery tracking. It eliminates manual processes and reduces errors, saving you time and money.
Easy to Use: DelyvaX is designed with a user-friendly interface that makes it easy to use for your staff and customers. With its intuitive design, you can manage your delivery operations without needing extensive training.
Customizable: DelyvaX is a highly customizable delivery management system that allows you to tailor it to your courier business needs. You can customize the delivery process, pickup and delivery locations, and much more to ensure a seamless delivery experience for your customers.
Real-Time Tracking: With DelyvaX, you can track your deliveries in real-time, providing your customers with accurate delivery updates. You can also set up alerts and notifications to keep your customers informed about the status of their deliveries.
Multi-Platform Support: DelyvaX supports multiple platforms, including web, mobile, and desktop applications. This allows your staff and customers to access the system from any device, making it convenient and easy to use.
Integration with Other Systems: DelyvaX can be integrated with other systems, such as your e-commerce software, and warehouse management system (WMS). This integration ensures that all your data is synchronized, eliminating the need for manual data entry and reducing errors. Extend your delivery network with multi-carrier management. Connect your services to couriers, allowing you to divert orders to your own fleet or 3rd party couriers based on pick-up and delivery locations.
Advanced Service Pricing and Coverage: Manage different services, and pricing with multiple tiers of customers and introduce new services and payment plans. Pricing by weight, distance, mileage, cash on delivery or other add-ons. Manage your service coverage by countrywide for international delivery, by postcodes for domestic, by polygon or radius for on-demand, instant, and same-day delivery.
Analytics and Reporting: DelyvaX provides you with detailed analytics and reporting, allowing you to monitor your courier business performance and make data-driven decisions. This information includes delivery performance, customer satisfaction, and driver performance, among others.
Customer Management: DelyvaX includes a customer management tool that helps you manage your customer database and track customer interactions. This tool enables you to improve your customer experience by providing personalized service and responding to customer queries and complaints promptly. Manage customer information, preferences, pricing, and monitor their usage in real-time. Generate and send invoices for credit customers.
Cost-Effective: DelyvaX is a cost-effective delivery management system that helps you reduce costs and increase profitability. It eliminates the need for manual processes, reducing errors and saving time. With DelyvaX, you can increase your delivery efficiency and provide better service to your customers without breaking the bank.
In conclusion, DelyvaX is the best delivery management solution for your courier business. It streamlines your operations, reduces errors, and increases efficiency, making it easier for you to manage your deliveries and provide excellent service to your customers. With its customizable features, real-time tracking, analytics, and reporting, DelyvaX can help your courier business thrive in the digital age.
What is DelyvaX?
DelyvaX is an all-in-one SaaS-based Delivery Management Software that automates your entire delivery process, from your customer's booking to the assignment of tasks to the driver or third-party couriers, to tracking to delivery completion and reporting.