How DelyvaX Can Help Scale Your Courier Business?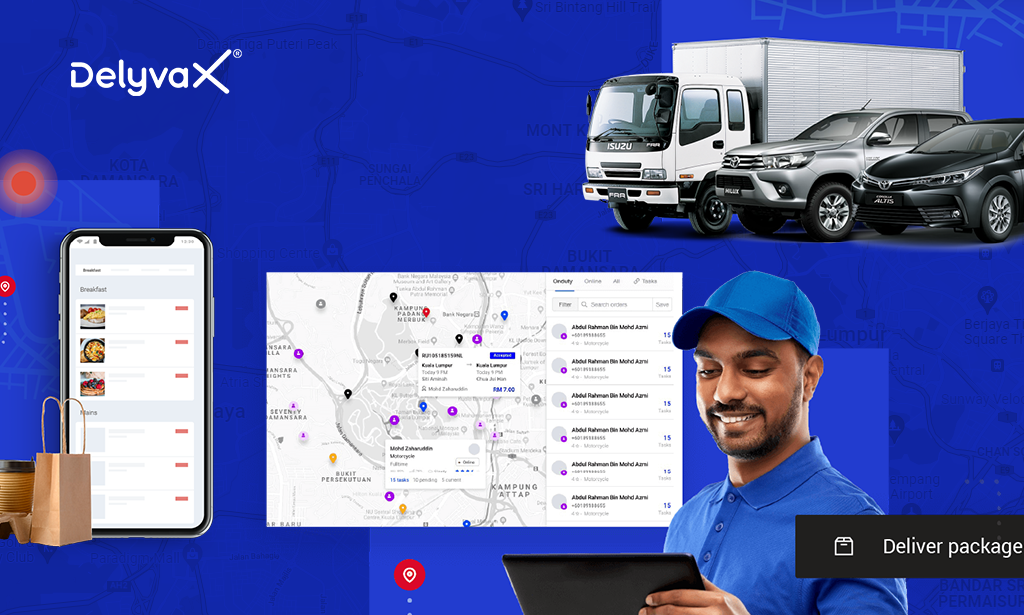 Today we live in the age of on-demand expectations where delays can be a major turn-off. The success of a courier business majorly depends on its efficiency and the extent to which it can please customers; realizing both of these objectives, success largely depends on deploying the right delivery management software.   
Like any other business, you need to be equipped with the right software and tools to manage your day-to-day operations seamlessly. You need to track orders, manage your fleet efficiently, incentivize driver-partners, and optimize your delivery services for better profits as a courier business.  
Here are some reasons why you should use DelyvaX for your courier business. 
8 Benefits of Using DelyvaX Delivery Management Software
1. Streamlining & Automation
Faster and more efficient processes help companies grow. DelyvaX reduces the number of steps in the delivery workflow by automating processes from automated planning to delivery to final delivery. 
This eliminates the need for spreadsheets with errors, hours of manual activity, and thousands of phone calls. 
It streamlines and speeds up the entire process and gives managers the clarity for critical logistics operations. In addition, powerful delivery management software like DelyvaX also increases transparency in day-to-day operations. 
2. Real-time Tracking
Monitoring the location of your delivery agents and providing them with guidance based on their availability and location is quite a task. And when done manually, it doubles time, costs, and resources. However, you can get accurate driver information in real-time with DelyvaX. 
It gives the exact coordinates of the delivery agent to the customers and, in turn, there are a lot fewer queries for your customer support executives. 
Real-time tracking also gives you superior control over operations with the real-time information of every delivery agent at your disposal. 
3. Route Optimization
DelyvaX selects the fastest and most efficient route for its shippers to achieve maximum fleet efficiency. 
The best route is determined based on traffic conditions, distance, and driver availability. The map is displayed on the control panel of DelyvaX for the responsible driver and administrator. This feature helps companies make more deliveries smarter and in much less time, ultimately helping you achieve your business goals. 
4. Efficient Order Management
End-to-end transparency of the shipping process improves the order management process. 
The delivery team uses a highly efficient interface to schedule deliveries, collect and assign/reroute deliveries from drivers. You don't have to scan thousands of spreadsheet entries with the available delivery management systems. 
To do this, you need a delivery management system that offers an excellent interface for everyone involved in the shipping cycle – agents, customers, and carriers. 
DelyvaX, for example, offers an easy-to-use dashboard with a complete overview of all orders & drivers' location, where you will be notified immediately upon each delivery status. The type of speed and information the system provides minimizes the risk of error, resulting in a better return on investment. 
5. Cost-Efficient & Timely Deliveries
You no longer need to manually type and make thousands of calls every day by automating tasks. DelyvaX reduces operating costs, saves time and resources, and at the same time eliminates the risk of errors and inconsistencies. With such an effective delivery management system, you save money on marketing and help you achieve your business goals faster. 
6. Insightful Business Analytics
Gaining business insight is essential for business growth. To know how well your business is doing, you need crucial parameters and patterns. DelyvaX delivery management software comes with analytical tools to help you gain insights and make informed decisions. 
It gives you a simple overview of historical data on all orders, customers, and shipments. In addition to historical trends and patterns, it helps you anticipate future maintenance needs and identify other productivity growth indicators that can help you increase the results of your marketing campaigns and improve operations. 
7. Better Communication
A robust communication model is essential for business growth. DelyvaX strengthens coordination between departments by providing a simple communication model. 
Delivery agents know the delivery instructions for each order with better communication without relying on pre-made records. Everything they need to know is in your delivery app. 
The streamlined communication channels built into DelyvaX also provide real-time signals and notifications, which customers value and appreciate. 
8. Customer Satisfaction
The delivery economy is driven by evolving customer expectations such as instant alerts and notifications. 
To keep up with ever-changing needs and stay ahead of the business, you need a delivery management system that keeps everyone up to date and reduces costs and waiting times, two key indicators of high customer satisfaction. 
Customers appreciate the extra effort brands make to improve communication, which increases customer loyalty. 
As soon as an order reaches the warehouse, customers are automatically notified that they can expect it the next day. A simple alert like "Your order has been shipped" shows the estimated delivery time and delivery date. 
9. Maximum Customer Retention
DelyvaX aims to maximize customer satisfaction, from sending regular updates to providing a robust customer support system. 
Customers value nothing more than reliable service, genuine products, timely delivery, and honest communication and may even recommend your platform based on these factors. 
By maintaining customer trust, DelyvaX increases customer loyalty and retention, which is very important for the company's sustainability. 
Business Use-cases of Delivery Management Software
Small and Medium-Sized Businesses
Even if you run a small business, providing last-mile deliveries with multiple vehicles and without an implementation plan is not a good idea. 
DelyvaX saves small businesses significant business costs by optimizing routes and handling more shipments despite limited resources. On the other hand, if you are working on a relatively larger scale, DelyvaX provides you with the right tools to extend your services while maintaining the same level of control and visibility across all deployment phases. 
Enterprises
If your company is already operating at maximum capacity, you need DelyvaX for long-term sustainability. New offerings and state-of-the-art delivery technologies allow for a massive amount of customization and customer support that will only take your business to new heights. 
For example, reverse logistics is as vital to business as standard deliveries. So if you don't already have robust reverse logistics, choose a feature-rich delivery management system that already has it such as DelyvaX. 
Industry-specific use cases of DelyvaX
The use of DelyvaX is not limited to any particular industry. Different companies use delivery management software adapted to all types of business needs. 
Courier Service,

 

Transport Company,

 

On-demand Delivery Service,

 

E-commerce and Retail,

 

Food and Beverage

 
Are you ready to get started?
Now that you're ready to step up your game in the delivery industry, it's time to start looking for the right service. Remember, you are given a lot of choices here, but the right delivery management software is the one that will add real value to your business. 
Not every platform offers everything at the right price. In addition, it can be challenging to pay a higher fee for a company that is still in its infancy. 
For that, you need a package that fits your business needs. Check out DelyvaX pricing here: https://delyva.com/solutions/pricing/ 
---
Safwan Rahman
Head of Growth at Delyva. I help e-commerce businesses and delivery service providers to provide better delivery experiences to their customers and scale their business to the next level with Delyva delivery management solutions.
---