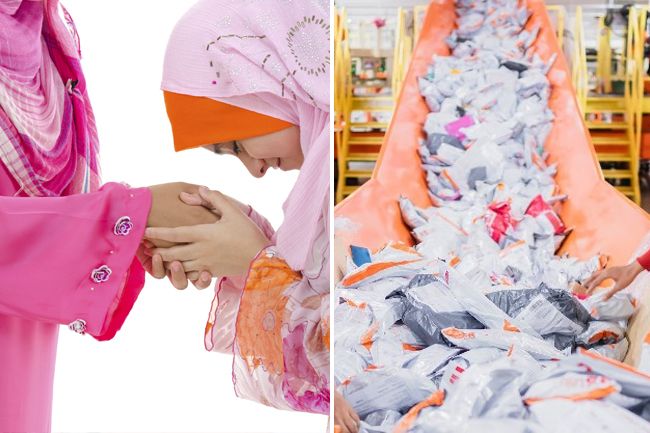 When people think of the peak season in the context of delivery, most associate the retail-driven pre-holiday rush in preparation for Single's Day (11.11), 12.12 sale up until the Chinese New Year. What businesses often overlook is as demand falls through November until February, there is typically a second rush leading into Hari Raya. In this article, we will give you insights into its impact on your supply chain along with recommendations on how to best be prepared.
The Muslim community in Malaysia and all over the world celebrate Hari Raya Aidilfitri, or also known as Hari Raya Puasa, to conclude the Ramadan holy month of fasting. Hari Raya Aidilfitri is regarded as a merry celebration as it marks a person's triumph and success on discipline and self-resistance which symbolizes refinement and rebirth. In 2021 it will be celebrated on May 13th. The first two days are regarded as public holidays but most will take a week off for this celebration. This can mean delays to your customers' shipments and also an impact on your supply chain and theirs.
The impact on your supply chain
Saying this festive season is much different from any other would be an understatement. Here is what to expect for the festive season and its implications on logistics.
As we would all know, the travel and hospitality industry got hit badly with COVID-19. However, this pandemic has not quite turned out to be as bad after all for some. With stay-at-home orders and the social distancing measures during the pandemic, more consumers are using e-commerce as their preferred channel of purchase. This in return significantly increased the load on the logistics networks. Why? As opposed to bulk shipments to physical stores, there is a significant shift of parcel shipments to consumers' homes, further straining the logistics networks already suffering from the COVID-19 crisis. Companies not prepared with adequate staffing to deal with the significant channel shift to e-commerce will struggle. Additionally, COVID-19 also poses additional risks to driver shortages given the 14-day quarantines for those who test positive.
On good days, when shipments are organized, issues can be easily solved, however, during peak periods, things may not be so forgiving with an exodus of shipments that need to arrive before the festive celebration. Delivery businesses not proactive in identifying the bottlenecks will stand to lose out.
All in all, the stakes are higher than ever for this coming festive season due to a combination of the mentioned factors. Delivery businesses with better visibility and decision-making will benefit the most from a crisis like this. Hence, many leading companies are investing more in their digital transformation journey.
So, what should you do to have better operational excellence and customer experience? Planning and preparation are key. Deep dive into your business operation now and digitize processes to minimize cost and time.
How Delyva can help you
Planning around holidays such as Hari Raya Aidilfitri is very important across all states. Our Delyva specialists are here to help you plan your local deliveries so that your documents/ parcels get delivered smoothly and without delays in the lead-up to Hari Raya Aidilfitri with DelyvaNow.
Not forgetting the crown jewel of our business, DelyvaX – Integrated courier management system from order to delivery. It supports a full suite of delivery and customer management-related features for a better customer experience and efficient operations where bookings, quotations, delivery tracking process, and task assignments can be done instantly. DelyvaX has also factored in the delivery personnel by incorporating a driver application where the drivers can view their delivery tasks.
While the chances of total lockdowns seen in the early days of COVID-19 seem low, clusters of cases and local flare-ups will continue and hence disruptions are to be anticipated this festive period. Reporting & Analytics, a feature of DelyvaX will be of much help to monitor capacity and add more when the market conditions demand it.
Our shipping experts are here to offer assistance. Hanif Wahid, CEO, Delyva:
"E-commerce has become more vital to the economy in recent months amid the pandemic. Unfortunately, many times, current industry players are unable to meet delivery and logistics challenges to provide the best services, thus discouraging people from purchasing online."
So, get your delivery business ready now to avoid the peak season around Hari Raya Aidilfitri. Are you ready to start digitizing with DelyvaX?  See how DelyvaX can help you to digitize your delivery business.