DelyvaNow allows you to compare and book the cheapest or the best-performing courier service & delivery service, and automate order fulfillment +return process and notifications.
When you incorporate DelyvaNow into your business process, you will be able to
Save money with discounted courier rates or link your own courier account;
Save time by streamlining your eCommerce

delivery and return processes;

Improve repeat purchases by choosing the fastest, best-performing courier service;
Provide better post-purchase experiences to your customers with automated notifications, estimated delivery date, and branded features: tracking page, notifications, & return page;
Here's how: 
After you successfully sign up, you will get access to DelyvaNow customer portal – https://my.delyva.app/customer.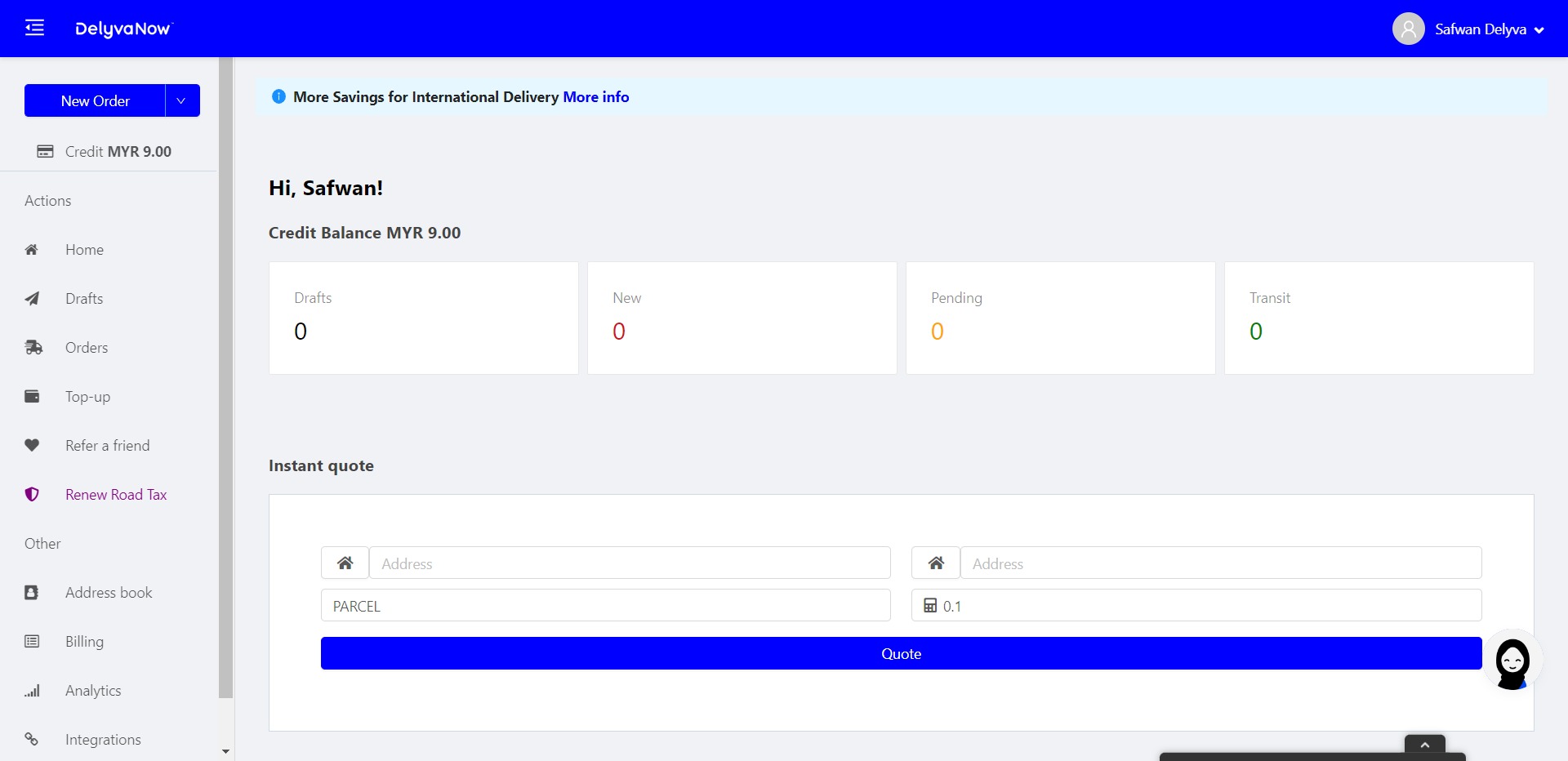 To start booking delivery with DelyvaNow, please top-up DelyvaNow credit at Top-up.
If you plan to use Cash On Delivery (COD) service, please ensure you have updated your bank information to avoid delay in settlement in Settings > Billing & Bank information.
There are 4 ways to start sending orders to your customers:

i) Manual order placement. Kindly check out How to Book.
ii) Import bulk order order (excel file) in Import bulk orders.
ii) Use Instabook to collect the delivery information from the buyer and reduce typos.
iii) eCommerce integration – if you have an e-commerce website or platform. Kindly check out our Integration tutorial for more details. Ready plug-ins available for Shopify, WooCommerce, Magento, EasyStore, Shoppegram, Ejen2U, Bizapp, Orderla, and more.
iv) DelyvaNow mobile app – available on Google Play Store and Apple AppStore.

Once the order(s) has been booked. Pack your item properly and print the shipping label (consignment note / AWB) and attach it to the packaged item. If you are shipping to other countries (including Sabah/Sarawak), please include the invoice, packing list, and import permit (if required by the destination country).
To avoid pick-up delay you may drop it off at the respective nearest courier branch or wait for courier partners to pick up the package. Each courier or delivery service has a different pick-up service level, please refer to the service description before booking.
You and your customers will be able to automatically receive WhatsApp, email & SMS (add-on) notifications of the delivery status. Enable notifications in Settings > Notifications.
Select your preferred couriers in Settings > Service providers – simply pick and move your chosen couriers to the right and click Save.
Branded Tracking Page & Notifications for better post-purchase experiences can be enabled by subscribing to DelyvaNow+ and setting up your brand at Settings > Branded Tracking & Notifications.
Branded Return Page allows you to have a more streamlined and better experience for your return and exchange process –  subscribe to DelyvaNow+ and contact our Live Chat to enable this feature.
Link your own account with DelyvaNow+.
Need help? Contact us through our Live Chat